Honiton Clubs Come Together
The lanes around Payhembury were the perfect setting for the first joint Honiton Spinners and Honiton Running Club Duathlon held on Sunday 3rd June. Cyclists and runners tackled the three-leg event consisting of a 3.82 mile run, then a 15.8 mile ride and, finally, a 2.41 run. Distances may not seem long, but changing from riding to running is surprisingly challenging. As one entrant said as she finished the ride and started the second run, 'My legs feel all wobbly'. Several entrants completed all three legs, whilst others formed teams of runners and riders. It was a fun, social event for club members, but that didn't stop wife and husband teams Paula and Adam Ferris tussling with Suzanne and Simon Spiller throughout the course. The Spillers edged home first only 40 seconds ahead, winning the Mixed Team prize. The youngest entrant, Ashley, joined Grandad Alan Nicholls and John Burgess to win the Male Team prize. There was just over a minute between the two female teams of Sharon Wells and Joanne Davey, and Claire Barrow and Mandy Ward. 'It was tough in the hot and humid conditions,' said overall female winner, Sherrie Hair, who completed all three legs in only 1.37.57 and was still smiling as she sprinted to the finish. The overall winner was Marcus Durrant, who breezed to the finish in a superb time of 1.34.09. Entrants, families and canine friends thoroughly enjoyed the morning, especially the wonderful cakes provided by members of the two clubs. Thanks go to Payhembury School and Hall for the use of their facilities, and to everyone who was involved, especially Roger Saunders.
Jennie Sleeman
Chair,
Honiton Spinners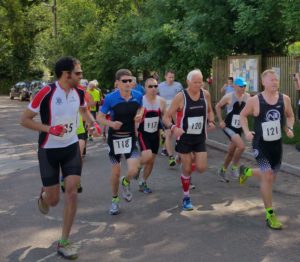 Moor2Sea Sportive
Several Honiton spinners took part in The Moor2Sea Sportive on Saturday 2nd September, starting at Exeter Racecourse, Haldon Forest, Devon. There were three routes. The Inspire was 37 miles (60 km) with 2,600 ft (750 m) of ascent. The Challenge covered 65 miles (105 km) and had approximately 5,700 ft (1,700 m) of ascent. The Extreme route covered 112 miles (180 km) and had almost 10,000 ft (3,000 m) of ascent. The Maximum gradiant was 26%.
Congratulations to Ellie Dominey, who was 3 rd female on this tough event and did a Gold Standard ride in 4h 11 mins - 64 miles and 5700ft climb including many of Dartmoor's finest hills. She also took QOM for the Haytor climb in 20min 4secs.
Even better, by one place, was Alister Trendall who came 2 nd in the Extreme ride - 110 miles and 10,000ft of climb, going round at 17mph in 6hrs, 32mins.
Congratulations too, to Angie Triner who chose this as her first Sportive – nothing like plunging in at the deep end. Angie has been improving all season and had the stamina to get up Haytor and the nasty climb near the finish.
Not to be outdone by his other-half, Steve Triner tackled the Extreme and also had a great ride, coming in 11 th overall in 7hrs 10mins.
Ax-Pedition
Several Honiton Spinners riders braved the torrential rain, mist and chill on Sunday 3 rd September to ride the Ax-pedition, a two course ride which, over the last two years has raised over £10,500 which has been shared amongst several charities, including Hospiscare & Exeter Leukaemia Fund.
The 50k Ankle Grinder began in Axminster and took riders across the Axe Valley into the tranquil rural village of Broadwindsor overlooking the stunning West Dorset countryside, wth the final leg through the South Somerset valleys passing close to the Historic Forde Abbey.
The 100k Cyclone also began in Axminster and took riders across the Axe Valley and through the West Dorset countryside. passed close to the Historic Forde Abbey and heading back towards the River Axe, though Colyton,Beer, Seaton and Axminster before descending back into the Axe Valley to finish in Axminster.
John Burgess and Bruce Strawbridge set out on the 100K route appalling, and possibly dangerous, weather conditions before opting for the shorter route.
By taking part in these events, riders contribute to the substantial funds given to charities. Well done!
A Tale of Two Thorpes – and  friends
The evening of Thursday 20th July 2017 saw a gaggle of windswept cyclists watching car after car being loaded onto the Portsmouth to St Malo ferry. The cyclists were last on. Luckily, Nick and Sandra had sneaked on ahead and saved seats in the bar for the 11 Spinners and baggage-carrying, picnic-making Dean.
Next morning, after a rather bumpy crossing, the enthusiastic, if rather bleary-eyed, cyclists were first off the ferry and raring to go. Until, that is, Julian noticed that he wasn't wearing his riding gear. It was in Dean's VW van. Eventually, everyone was fitted out with the correct bikes and kit. They set off. Then stopped. A mile or two away, breakfast in St Malo beckoned. The owner became particularly friendly when he saw 11 ravenous Brits turn up. So, it was strong coffee, with ham and cheese gallettes for 11, s'il-vous-plait.
'Off course!' became a familiar cry from our leader, JB, but we didn't mind sight-seeing round St Malo (and the next stop, St James, and Plessix-Balisson), once, twice – how many times? Nor did we mind cycling through a car park, on footpaths in a public park, or even into a farm-yard. We were happy to offer interest to bemused locals. Eyebrows were raised, however, when one shingle track became a feat of avoiding roots, boulders (OK, big stones), ruts and mud. We made the whole trip (2200 miles between us) without a single puncture, although a few chains became dislodged and Claire parted company from her bike as she tested the theory that she could stay upright whilst motionless. JB was bereft without his allen key, until Julian and Rod came to the rescue. Surprisingly, CycleHoniton's emergency supplies were not needed.
Lunch was planned at Mont St Michel, but, quelle horror: no orange and brown VW van. Nick, Julian and Rod sped off in different directions to find Dean. Claire used her mobile phone. Eventually, the 12 were reunited in the car park and, taking one look at a crowd of cyclists, the people in the parking spot alongside suddenly drove off, leaving us ample space to sit on the grass and enjoy the wonderful picnic provided by Dean. He even remembered the wine! We enjoyed the next picnic at the entrance to the hotel in Erquy on Sunday. Feeling a touch conspicuous, but definitely hungry, we decamped and tucked into another Dean 'Special' before checking into what was probably the best hotel of the trip – although Pete's attempts to explain how tiny his shower cubicle was prompted an inspection party to see for themselves. Pete didn't demonstrate, however. Jennie was delighted to have an en-suite - with a toilet this time.
Carb-loading was a strong feature of the trip. Although Pete's desire for Moules was frequently met, he was denied them after a morning cycling along the Sables D'Or and Cap Frehel. Arriving at Matignon, Pete made a beeline for a restaurant with a 'Moules' sign. But it was not to be: JB had spotted the patisserie next door. Dilemma. Soon, the cyclists trooped out clutching bags of pies, sandwiches, pizzas and, of course, the delicious Breton cake, earlier tested by JB and Pete in Dinan. JB appeared to be on a mission to taste every sweet delicacy on offer in Brittany. It would, of course, have been rude not to join him. He wasn't quite so keen on sampling Nick's impromptu roadside picnic of bread, croissant and jam removed from the breakfast table in Dinan (who's saying he got up too late to eat it with us?) Sandra's supply of chocolate biscuits, however, was a different matter.
The most amazing meal of the trip must be the meat-feast of a BBQ in the Yourt Village in Plessix-Balisson. Rod had a disagreement with a chair (again!!) and ended up under the table  (though no one's mentioning the empty wine bottles)  and Claire's encounter with the low doorway of her Yourt was certainly memorable, but sitting in the warm sunshine around the BBQ was pure delight. Thankfully, Nick had organised the one warm, dry day for when we were camping. Camping? Who mentioned bedding and towels? Don't ask.
The weather wasn't quite so kind as we approached Dinan in torrential rain, with wheels sliding, brakes squealing and glasses steaming up. Eleven soggy, dripping cyclists left a trail of puddles as they conjured up imaginative ways of hanging up wet clothes and shoes to dry around small bedrooms. Rain, though, didn't put us off. It was another day, so another dress – and, of course, heels -  for Sue, who tackled the steep, wet cobbled streets down to the harbour with elegance.
A cycling holiday it may have been, but Vanessa wanted to run. At dinner in Erquy, enthusiastic plans were made to swim in the sea and go for a run along the beach – all before breakfast. At the appointed hour, enthusiasm seemed to have waned as a motley collection of us, sporting swimming shorts, cycling shoes and cycling shorts set off in the strong wind to run along the beach. Of the swimming party, there was no sign, but the runners were rewarded for their efforts with another delicious breakfast. This breakfast and that in the Kyriad in St Malo contained the greatest choice, but the basket of goodies provided in the campsite was certainly the most interesting. Perhaps, eating outside adds a charm.
Of course, being beside the sea, we had to sail. This opportunity was provided as we caught the little passenger ferry from Dinard to St Malo on Tuesday. The ticket seller went pale, but kept her smile as I explained that, yes, there were 11 of us and, yes, we all had bikes. The sun shone; it was lovely.
A little culture and would-be bird-watching also occupied us, with Nick filling us in on the history of the railways, peering through windows of an abandoned mill and the mystery of the reported sighting of the kingfisher. Now, who is to say whether there was a kingfisher in the bush or not? Certainly, only one person saw it. Rumours of possible sightings followed throughout the trip. Was there a kingfisher, or not? Who knows?
To offset the educational aspects of the trip, we had some drama. As the regular cry of 'Photo stop!' was passed along the line, JB and Julian disappeared round a bend in the far distance. We wondered how long it would be before they noticed that they were the Lone Riders. Nick became bored. Suddenly, his bike was on the verge and he was spread-eagled in the middle of the road. Sarah followed his lead. The rest of us just giggled. At that moment, JB reappeared. Now, as JB said afterwards, had it been anyone other than Nick, lying in the road, he would have been alarmed.
We had wondered where everyone was as we cycled along near-deserted roads and through quiet, sleepy villages. We found them in Cancale and St Malo. This was the only time that we were forced to separate for lunch as we divided into two groups in order to find space. We also joined the tourists during our last evening in St Malo, as Google maps replaced the Garmin as route-master for our bus ride and walk into the town.  An amble round the old town ended with a drink in a beautiful setting near the sea. It was a perfect way to spend the last evening in France.
The last morning brought rain and a wardrobe dilemma: how to cycle the few miles to the ferry port without getting soaked through, but have clean, dry clothes for the 9 - hour crossing? Unlike the trip out, the ferry was quiet – and so were we: weary perhaps, reflective, perhaps. To provide a fitting end to a truly memorable and enjoyable trip, gifts were presented to Nick for the organisation, to Dean for the transportation and to JB for the navigation. All that's left is to thank everyone for making it such a good trip, especially the trip photographer, Rod, for his excellent visual record and to Sandra and Claire for their linguistic skills.
Ride London 100
This event, a 2012 London Olympics legacy, has rapidly become the must-do event of the cycling calendar, says John Burgess who, with Julie Spohr, Marge Pearce, Jo Davey, Phil Palfrey and Nick Thorpe founds himself at the Olympic Park at an unearthly hour of the morning with over 20,000 other riders. The closed roads, the mainly flat course, the other riders whizzing along and the cheering crowds in towns and villages spurred us on to ride faster than we would normally expect over that distance. The main climb of Leith Hill was challenging but no problem for East Devon riders, apart from the effort needed to avoid cyclists grinding to a halt right in front of you. with fewer riders than last year, it appeared to be less congested and safer. In addition to the challenge of riding 100 miles, some Spinners, including Julie and Phil raised money for charity, one of which was Children with Cancer, supported by Phil. Nikki Gigg had the misery of having to decline a place two years running as a result of injury, but is not able, unfortunately, to defer her place a second time. Sue Jones was luckier and has a place for 2018. Well done Spinners for such an achievement!
200miles over 5 days in France but these Mad Men did 213 in one go
Meanwhile, James S, Mattias S, Mark B, Rob C, and Mike W. take the accolade for sheer distance, endurance and cycling madness with a 213 mile ride. They headed to Exeter, then up to the Somerset Coast at Dunster, along the coastal road to the Mendips where they did an 80-mile loop before heading back via Taunton. Congratulations on an absolutely epic ride.
Tony Ballinger – Spinners Tour Rider!
Not to be outdone, over in the Alps, Tony B has been riding the Tour de France climbs – Alp D'Huez, Croix de Fer, Col de Sarenne, Col du Telegraphe and Col de Galibier – 21,000ft of climb in all! After this, the Col de Chineway will seem like a pimple. As Tony said, he just kept on going. Dizzy heights! What an amazing feat.
Up, Down and Far Away
Honiton Spinners have been spotted in Wales, London, in the Tarn Valley, France and, of course, scaling the heights of the East Devon hills.
The third Wales Velothon – 140K (88 miles) is a closed-road sportive, starting and finishing in Cardiff, where Honiton Spinners, and 15,000 others, can pretend they are Tour de France riders as they sweep through towns and villages with spectators clapping, ringing bells and cheering, and as they cut the corners off powering down the descents. There are two iconic climbs, The Tumble, which is a leg-burning 2.6miles long (8-12% all the way) and Caerphilly Mountain, which is shorter but with three lung-bursting steep 18-20% ramps. Tony Ballinger, Scott Rumens and Rob Conabeer zipped round the course averaging 21mph+ with Rob coming in the top 50! Descending from the Tumble, Tony says he had a nasty argument with a kerb and a wall and has the scraped skin to prove it. Jennie Sleeman, Vanessa Glynn Jones and John Burgess, had a great day out in the glorious weather at slightly less ambitious speeds.
The Dartmoor Classic 2017 by Ben Greenland
Myself and Alister Trendell from Honiton Spinners rode the Dartmoor Classic Grande route along with Andrew Simmons in lovely weather. Alister was trying to beat last year's Gold time of 6 hours 2 mins while I was trying to get my first ever Silver time. I had the split times from last year and in the knowledge that I needed to be quicker by just over 45 mins it was going to be a tough target. We set off well and made it to Princetown for the first time 19 mins up. Our faster pace continued up until we reached back to Princetown for the second time where it became clear that a silver time was still on the cards but it was going to be close. The Silver time was 7.14 for my age group and my finishing time was 7.06 with Andrew a few minutes faster. Alister had had an amazing ride, finding a fellow ridder to team up with and smashed last year's time completing it in 5.43 and coming 7 th overall.
Mike Bowring, Gary Enticott, Olivia Higginson and Craig Boyde also rode the popular Devon Classic. Mike, Gary and Craig rode the 60 mile route, starting at Bicton Park, taking in Sidmouth, Honiton, Exmouth and Peak Hill. Olivia, still recovering from injury, tackled the 25 mile route. She was delighted to beat three male riders, who rode in her slip stream along Exmouth seafront before overtaking her, but she beat them to the finish! Congratulations also to Ellie Dominy to come in 2 nd lady in the Honiton Sprint Tri. She was delighted to be a minute quicker than last year, but that illusive triathlon win is in her sights!
Congratulations also go to Rachel Mandrupson, who came third in her category. She says: "A great Honiton Tri and thanks to everyone who organised and marshalled it."
Meanwhile, Scott Rumens loved the cycling parts of the Tour de France route, climbing over 3862 feet of climb in the Tarn, although it was, he admitted, a bit hot!