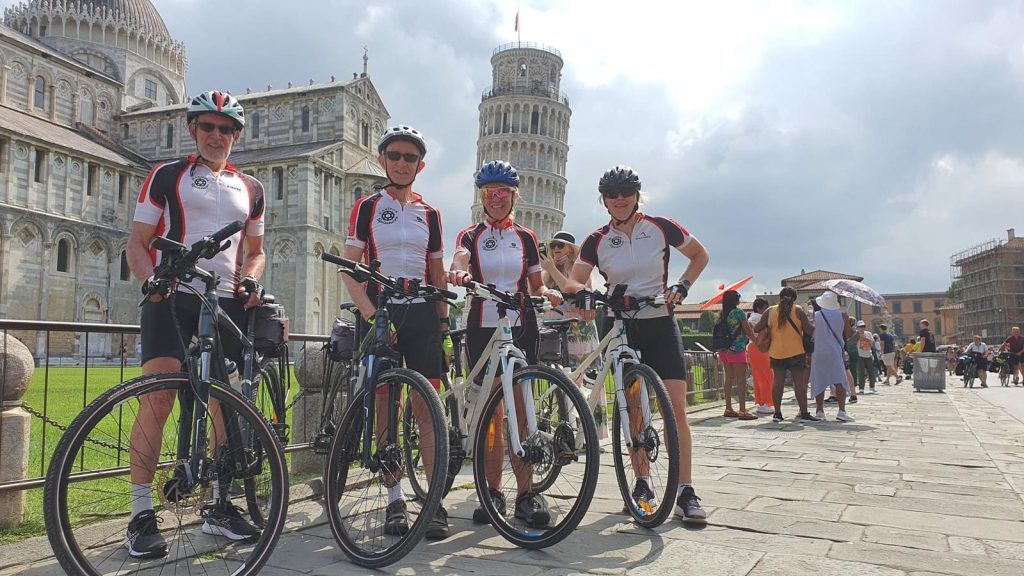 John Burgess, Sue Jones. Lin Grady and Roger Saunders flew to Pisa to cycle from Pisa to Florence in 5 days. Mike Bowring was due to join them but unfortunately fell ill the week before and had to withdraw. Mountain bikes were provided by Saddle Skeddadle at the start which weighed a ton compared to the road bikes back home but Roger was pleased as they had straight handlebars and no cleats.
Day 1. Pisa to Lucca. After the mandatory starting photo with the leaning tower in the background the route led out of Pisa and along the side of an old roman aqueduct. One hairpin hill was encountered, but thankfully not Alp d'Huez. The ride into Lucca was by the river Serchio and then up around the city on top of the city wall. We just managed to reach our B&B before thundery weather arrived with a downpour. Impressive mammatus clouds were spotted in the sky. It was only 28 miles so some time was had to walk round Lucca, which is a gem of a city and less crowded than Pisa.
Day 2. Lucca to Montecarlo via Pinocchio writer's town. This 26 mile leg had lots of climbing, but wonderful views. Boy was it hot with warm water in drinks bottles rapidly running out but luckily public fountains/taps came along and kept us going. The morning cafe stop was opposite a hideous looking church but it was just wonderful inside. After a stop to take in the stunning views of the Tuscan countryside Lin left her glasses on the wall. Four miles later on the other side of the hill she remembered and so Roger heroically cycled back to retrieve them. Beautiful Villas round every corner and then a sapping climb and fast descent to Collodi, a town associated with Pinocchio. Delicious pizza and cold beer revitalised the legs for another climb under the remorseless yellow disk in the sky up to Montecarlo, a hill top town. We were greeted with medieval looking soldiers with swords and a trebuchet as their festival was that evening allowing us to watch the procession.
Day 3 – Montecarlo to Montecatini. Only 15 miles but mama-mia one long hard climb up to Buggiano Castello that finished up on cobbles at over 20% so we all had to push the heavy touring bikes up. Thankfully John had taken his pills. A lovely stop for more iced drinks and ice cream saw morale fully restored and we went serenely on our way down a lovely twisting downhill section on the edge of Montecatini. Saddle Skeddadle then threw a spanner in the works by routing us from a perfectly good flat road up a short gripping 20%. Seeing Roger collapsed over the bars at the top was not a good sign. Then hotel, food, shower and up the funicular to Montecatini Alta, and more drink, ice cream, food and fantastic views.
Day 4 – Montecatini to Vinci. 16 miles today, with no hills, to Leonardo's town. With the relentless heat up to 36 degC in the afternoon we decided to arrive at lunchtime. This allowed time to visit the museum on Leonardo's paintings and undertake some bridge building. More lovely views from the castle area above the town.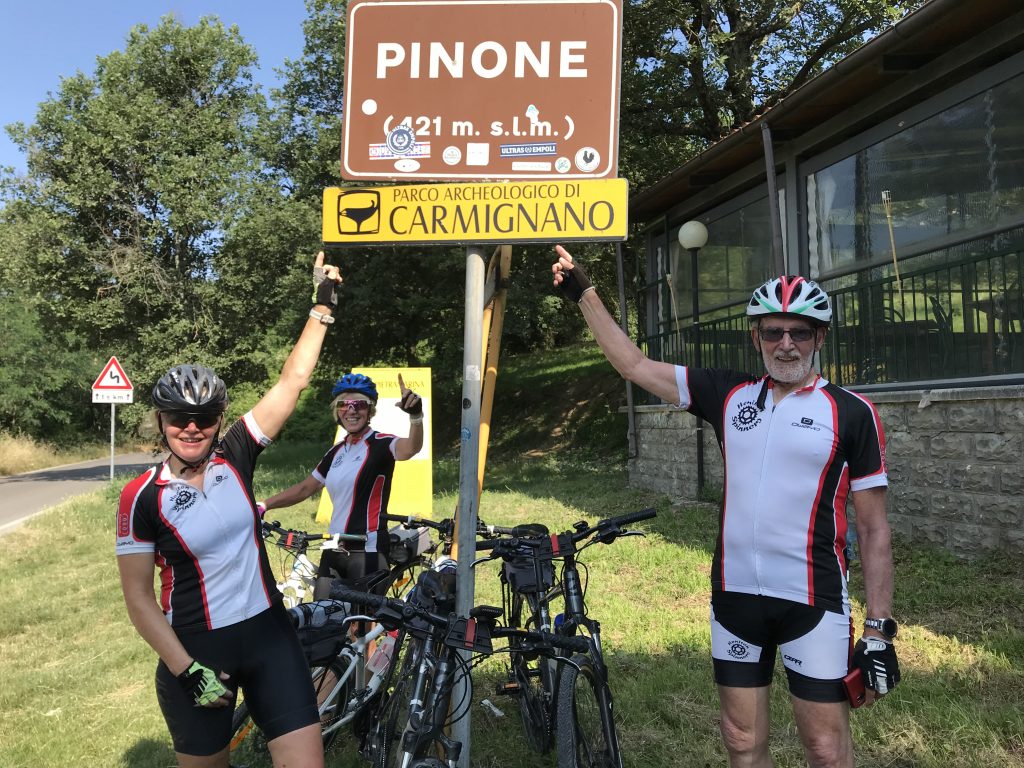 Day 5 – Vinci to Florence. Weset off from the Mona Lisa Hotel with 26 miles ahead of us and were soon at the start of a long hill, over 4 miles, but no severe gradients, just lots of bends. This was followed by a lovely long descent which we interrupted with a café stop. Another kick up after a few miles, and then some pleasant riding alongside the river Arno which seemed to have the world's longest street market. After reaching the centre of Florence we had a celebratory lunch, and then across the river to journey's end at the Classic Hotel.
The whole journey was enjoyed by all with good food and drink every day and the accommodation chosen by Saddle Skeddadle was of a high standard. Being able to enjoy the Tuscan countryside on a bike is definitely the way to do it.